Hands free - thanks to the new wireless Interface
Upgrade you existing PCM with wireless handsfree function
This BTIF Wireless-Interface replaces the existing GSM telephone module on the backsidde of the original Porsche PCM system.

There is no more SIM card needed. Any mobile phone can be connected wireless.
The phone book from your mobile Phone is acquired by coupling (max. 200 entries).
Names and phone numbers are displayed in the PCM when making calls. Up to four mobile phones can be saved.
The last connected mobile phone connects automatically with every new launch. In addition, music can be played from the mobile phone via Bluetooth(TM) streaming trough the PCM.
The Module simulates an additional CD Changer device - The operation of the original CD changer is still possible!

Simply go to the car, insert the key and use the original handsfree system with microphone and speaker.
No modifications are necessary. Only the Module will be replaced and an additional antenna has to be installed into the center console. Finished!
See how simple you can install the module on the PCM`s backside:

Check the software on your PCM to find out which module is needed.  Modul HWA1 or HWA20

Press "AC" and "dark" at the same time. The following screen should appear: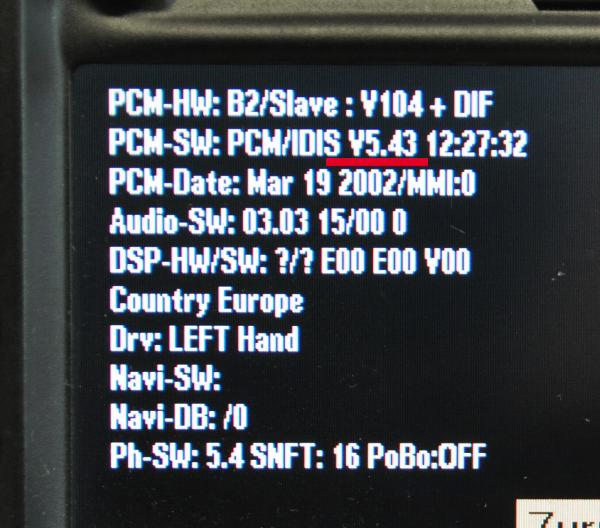 Please check the PCM-SW to see if you got a V3 or V5 PCM unit.

Included in delivery:
- Wireless-Interface Version V5 or V3
- Code Card with Serial and Pairing PIN
- Antenna with 1m connection cable
- CD Changer cable for CD Changer simulator device
- User manual -> Link to user manual
Wireless-Interface
 Antenna
 CD Changer adapter cable
(c) istock.com/andresr

(all pictures and specifications may be subject to change at any time without prior notice)